Nā Kia'i o Pu'uloa by Taylor Wilson
In Spring of 2022, Leeward CC art students competed to have their design showcased on the main entrance of the Learning Commons. Taylor Wilsonʻs design, depicting the shark goddess, Ka'ahupāhau and her brother, Kahi'ukā, in harmony with the ocean and its inhabitants, was selected for the window print. This project taught students about designing for a large-scale installation, and they learned about Native Hawaiian culture during their research assignment. More information about this project and the student artist will be available soon. In the meantime, feel free to stop by the Learning Commons and get a good look at Taylorʻs artwork. It is truly amazing to see in-person!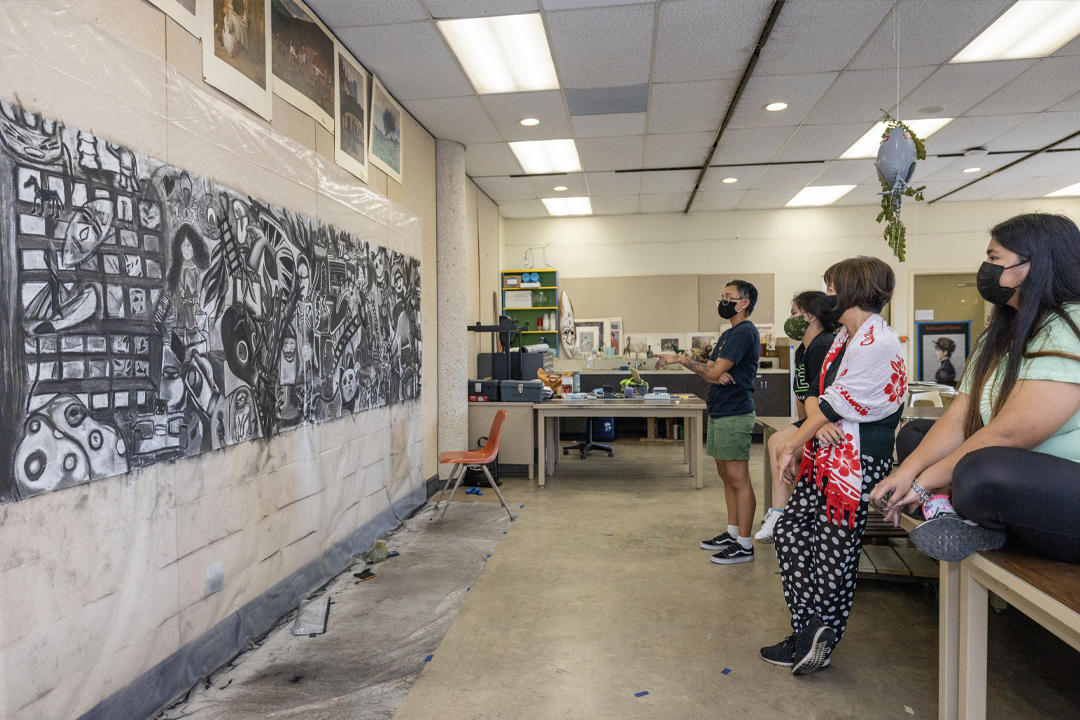 Introduction to Drawing Final Project - Spring 2022
Introduction to Drawing students put all they have learned this semester to the test through an ambitious, collaborative project. Working from a large installation of various still life items, each student had a different vantage point that shifted when the next student worked over the same area. Learning the importance of collaboration, they pushed the image beyond that of a simple still life drawing. Elements of composition and design were considered and often exaggerated for the ultimate benefit and integrity of the drawing. This ambitious final helped prepare students for a flawless transition into Intermediate Drawing. Check out photos of the class and the final piece on our Flickr album.
Hō'ikeākea (Opening in Spring 2023)
Leeward CC will soon be home to a brand new art gallery, specifically designed to showcase works from our students, faculty, and artists from Hawai'i and beyond.
The name of our new gallery, Hō'ikeākea, was inspired by a previous exhibit in the Leeward CC Library. Hō'ike (to show, to exhibit, to reveal), contains the word "'ike" which has deeper meanings that convey knowledge, feeling, recognition, experience, and revelations from the gods (to name a few). Ākea (broad, expansive, spacious) is also a short form for the god Wākea, of Papa and Wākea, the couple that connects all of Polynesia. Thus the word Hōʻikeākea means the broad expanse of knowledge—to exhibit, reveal and inspire.
Check our website for updates about Hō'ikeākea, or follow us on Instagram (@leewardccart).
Donate to the Arts at Leeward
Support the Arts & Humanities department at Leeward Community College.