Hōʻoia ʻĀina, Land Acknowledgement
Leeward Community College, with profound reflection, offers this Hō'oia 'Āina, Land Acknowledgement Statement, recognizing Hawai'i as an indigenous space whose original people are today identified as Native Hawaiians. 
Leeward Community College upholds the University of Hawaii's commitment to the well-being of our indigenous communities. This Hō'oia 'Āina honors the relationship between kānaka 'ōiwi and the land upon which the college sits. 
With much aloha, this statement pays respect to the ʻāina ʻōiwi of our Puʻuloa campus and Wai'anae Moku Education Center, both located on the mokupuni of O'ahu, moku of 'Ewa, ahupua'a of Waiawa, as well as the moku of Wai'anae and the ahupua'a of Lualualei.
This Hō'oia 'Āina welcomes all who gather on these ancestral lands.
Vision
We aspire to be the leading indigenous-serving community college dedicated to inclusion, innovation, and our Hawaiian sense of place.
Mission
At Leeward Community College, we mālama all students and affirm our special commitment to Native Hawaiians. We transform the lives of our students through high-quality, accessible, and affordable education.
Ka ʻŌlelo Nuʻukia
Kia mākou e kū ma ke 'ano he kulanui kaiāulu ka'ika'ina kāko'o 'ōiwi e kūpa'a ana i ka lōkahi, ka mana'o hou, a me ke kuleana o ke aloha 'āina.
Ke Ala Nu'ukia
Ma ke Kulanui Kaiaulu o 'Ewa a me Waiʻanae, mālama mākou i nā haumāna a pau a kūpa'a mau nō ho'i i nā 'ōiwi o Hawai'i. Hoʻololi mākou i ke ola o nā haumāna ma o ka hoʻonaʻauao kilohana, ke ala e hiki ai i ka hoʻonaʻauao, a me ka hoʻonaʻauao makepono.
These core values shape Leeward Community College's mission: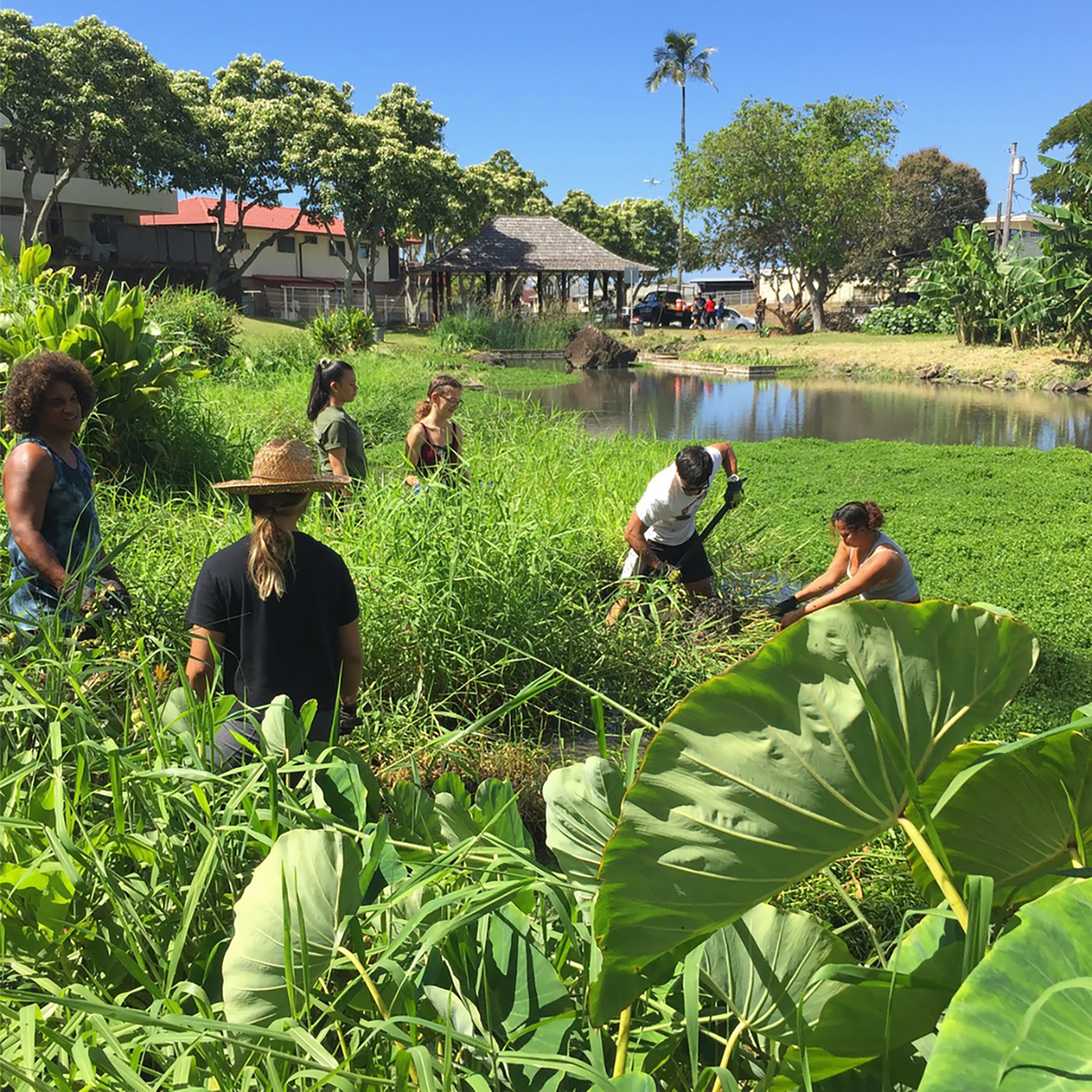 Community
We value cooperation, collaboration, social responsibility, and concern for others as crucial elements in building a sense of community inside and outside of the institution. He mea nui loa ke alu a me ka hana like me ka mālama nō hoʻi i ke kanaka ma ke kūkulu kaiāulu i loko a i waho aʻe o ke kahua kulanui
Diversity and Respect
We value individual differences and the contributions they bring to the learning process. We believe that our students are enriched through a diverse intellectual and social environment, where learning occurs through exposure to world cultures, and through interaction with peoples of diverse experiences, beliefs, and perspectives. He mea nui loa ke kākoʻo i nā kuanaʻike like ʻole a he waiwai nō ia ʻike i ke aʻo pono. Pōmaikaʻi nā haumāna i ke komo i ke kaiāulu o nā ʻike like ʻole, ʻo nā ʻike moʻomeheu like ʻole o ke ao nei nō hoʻi kekahi, a me ka launa pū me nā poʻe o nā moʻolelo like ʻole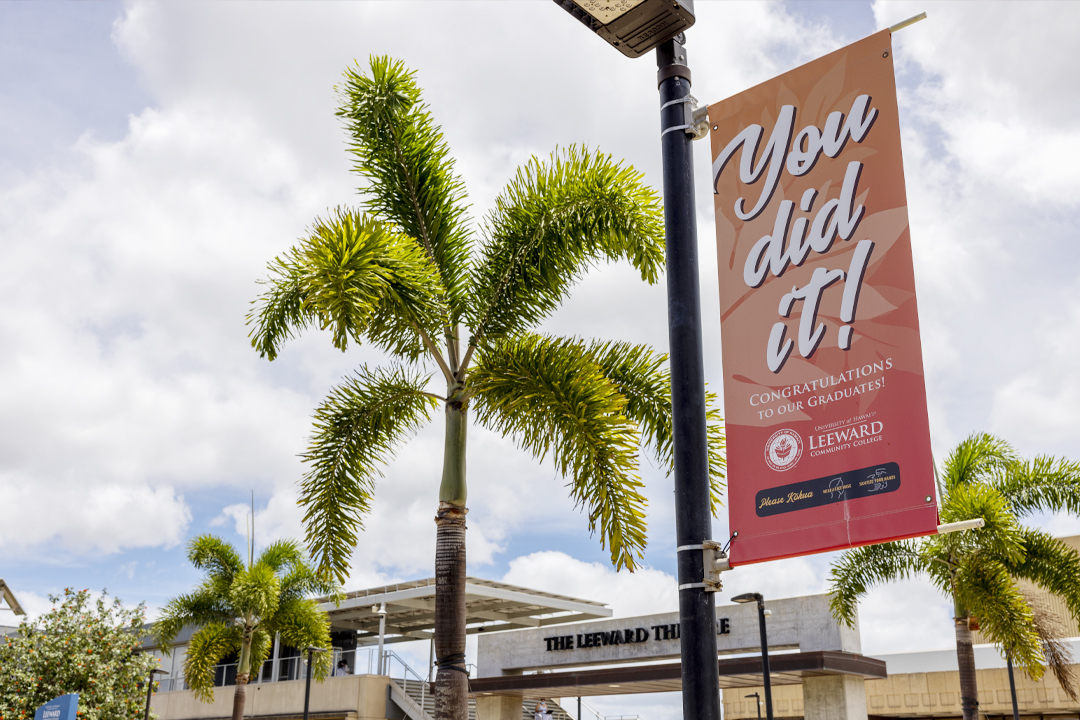 Integrity
We value personal and institutional integrity by fostering a culture of continuous improvement to open pathways to student success. We hold ourselves accountable for providing a high-quality academic experience. He mea nui loa ka hana pono o neʻi nei a hōʻike ʻia ma o ka hoʻomōhala a hoʻoikaika mau i nā ala pono hele ʻia e ka haumāna. Hoʻohiki ʻia nō ka pōʻaiapili aʻo pono loa.
Open Access
We value all students. We seek to meet their needs, as well as those of the community, by offering a diversity of courses, degree and certificate programs, and training opportunities, through traditional and distance education modes of delivery. He mea nui loa nā huamāna a pau. Hoʻokō ʻia nā mea e pono ai ka haumāna a me ke kaiāulu ma o ka hoʻomākaukau i ka papa, ke kekelē, a me ka papahana palapala ma ke aʻo ʻana i ke kahua kula a ma o nā ʻenehana like ʻole.
Our Oli
"Hālau Puʻuloa"
From the Bishop Museum Archives, MS Case 4 M61 Pages 94 to 95
Attributed to Moekali, ʻEā by Dr. Kekuewa Kikiloi
Transcription and Translation by Kepoʻo Keliʻipaʻakaua
Leeward CC's college oli (chant) describes the beauty and breath-taking expanse of Puʻuloa.  Before it was Pearl Harbor, the numerous fishponds in the harbor fed the growing population of ʻEwa.  We use this oli to welcome visitors to our home and extol the virtues of Puʻuloa. This chant was found in the Bishop Museum Archives and translated by Kepoʻo Keliʻipaʻakaua, a Leeward alum, while he was researching his master's thesis. He graciously agreed to allow the college to adopt this wonderful treasure.
Hālau Pu'uloa he awa lau no 'Ewa
Expansive is Puʻuloa a harbor for ʻEwa
He awa lau moana na ke Kēhau
An extensive harbor belonging to the Kēhau breeze
He ki'owai lua he muliwai no 'Ewa
An abundant, overflowing estuary for ʻEwa
No ua 'āina kai (i'a) hāmau leo
To this land belongs the iʻa that silences voices
E hāmau ana ka leo o ke kanaka
The voices of people will be silenced
'O pānea mai auane'i hilahila
Yet, a response is always given lest there be shame
Ke'eo ua i'a la i loko o ke kai
The aforementioned iʻa fills the sea
O ke kai puakai 'ula ai ke kai o Kuhia– e
from the sacred reddish sea to the sea of Kuhia
As you browse our website you will notice a pattern that depicts shark fins cutting through moving waters. This graphic represents the protective presence of the shark goddess, Ka'ahupāhau, and her companions, ever-present, in constant motion, watching over Pu'uloa.
This design was inspired by Kumu Momi Kamahele and illustrated by the Osaki Creative Group.