Scheduling a Counseling Appointment
Scheduling an appointment is easy and can be done online. If you are a current student please see STAR Balance instructions below. To see a counselor, please select the type of appointment that fits your need from the list below.
Please call (808) 455-0233 or send us an email.
Same Day Appointment
Hours: Monday-Friday from 9:00 am – 3:00 pm. Check availability on Balance or call (808) 455-0233.
Evening Appointment
Fall and Spring semesters: Wednesday and Thursday evenings. Schedule using Balance or call (808) 455-0233.
Unsatisfactory Academic Progress And Financial Aid Appeal Appointment
Please schedule using Balance or call (808) 455-0233.
Late For Your Appointment
If you are 10 minutes late or more, you may be asked to reschedule your appointment.
Cancel Your Appointment
If you are unable to make your scheduled appointment time, please cancel it on Balance or call (808) 455-0233.
Note: Peak registration occurs the week before school starts and the first week of school.
Scheduling through STAR Balance.
Click log-in at the top right.  Enter your UH username and password.

In the next window, see the bottom of the left module menu and look for Advising Services.  If it is not already expanded, click on the plus sign to display your counselor.

Select your counselor to view that person's availability.  If there are multiple counselors checked off, you are able to see all of their calendars by day.  If you would like to see someone specific, uncheck all the others checked off to see only that counselor's availability.

Look for the blue blocks which say "Available for Appointment."  Click on a start time that works for you.

The following window will open for you to select the details of the meeting. All appointments are set to 45 minutes. Please scroll down to STEP ONE to set your Appointment Reason, as well as Attendance Type. You may enter an Appointment Comment to give your counselor more specific details regarding the assistance you need.
Once you are done, click the blue Submit button, and you'll be all set! A confirmation email will be sent to your UH email account. You will also receive a reminder the day before your appointment.
We look forward to working with you!
Leeward CC (Pearl City)
Student Services Welcome Center
In-person: AD 201
Phone: (808) 455-0233
Email: leeward@hawaii.edu
Wa'ianae Moku
M-F: 8:00 am to 4:30 pm
In-person:
87-380 Kulaaupuni St,
Waianae, HI 96792
Phone: (808) 454-4702
Email: waianae@hawaii.edu
Counselors
Program Counselors
Generalists – Liberal Arts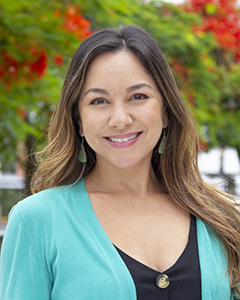 Nicole Keim-Fortuno
keim@hawaii.edu
Ph: (808) 455-0432
Office: LA-201
Developmental English, English Language Learners, International Students
Native Hawaiian Students/Hawaiian Studies

STAR GPS
Your guided pathway to graduation
STAR is a web-based tool designed to assist you in staying on track to graduation:
Track Degree Requirements with your Academic Essentials

Explore different pathways and majors with the What If Journey

Make sure you stay on track to graduation with the Graduation Pathway

Graduate On-Time and Get Ahead with STAR
Helpful Documents