Summer Camp
A poem by Shynelle Baca

Patches of rain in the distance
The scent of wet dirt rushing in
Chickens roaming, dogs barking
Our shoes covered in dust
Tumbleweed branches fastened in our hair
The deteriorating front door wide open
Grandma shouts from the window
"Wóshdéé! Come in! Come in!"
We parade past the heated wood stove
Kerosene lantern dimly brightening the room
Grandpa huddled on his mattress,
spitting on his fingers, shuffling cards
Grandma shouts from the back room
"Íyá! Eat! Eat!"
Grandpa sneaking us chocolate,
quickly signs "put in your pocket."
All at once, only the sounds of chewing mouths
and wood searing
Bags packed, spirits low
Preparing to journey back to real life
Kicking and screaming on the inside
Until I hear…
Grandma shouting with grandpa waving
"Ayóó'ánííníshní! I love you! I love you!"
Perspectives in Motion
A story by Nicole Bulacan

Flight in progress – as the passengers tread lightly with each step boarding the plane. As each pulls the smooth cool fabric of the seat belt over their lap, the commotion of voices and swirling luggage fill the spaces of transition. The atmosphere of the aircraft swirls with a mixture of opposition. A carefree nature, the mark of enjoyment being along for the ride. The other, a note of anxiety and apprehension at the unknown journey waiting beyond the wings.
The pilot engaged in the process with the soft edge of fingertips resting along the control board panel, the mechanisms in which to allow ascension. The comprehension of variables laying a mind at ease, the destination in sight and the knowledgeable steps to arrive there, creating a sense of conviction within each breath. Within turbulence, there are solutions in order to maintain velocity for the pilot – moments of unease may be met with careful consideration to achieve equilibrium once again.
For the engineer, the mind is captivated within a quiet force of tranquility – of flow. A creator of reality – of destiny – as the mind connects the lengths of aerodynamic design, collaborating with intense pressure and fortified with the acceleration of thrust counterbalancing the drag that resists the force of forward movement. The engineer's mind is at ease with motion – at one with the totality of flight.
Expectations
A story by Elsie Foster

My mother believed that birthday celebrations are how we show love. On my birthdays, she would brush my hair aside and kiss my forehead. "Your birthday is special because you are special," she said.
As the oldest daughter, I was always helping her plan a party for someone, not only for family, but also for friends, neighbors, and co-workers, too. Mom celebrated everyone and she was constantly shopping for a gift for someone. I admired her ability to find just the right gift, each and every time. She always made sure my birthdays were special, from the little princess parties as a child to fabulous dinner parties as an adult.
When mom turned sixty years old, it was a huge celebration. We pulled out all of the stops with a private room in a fancy restaurant that we decorated from top to bottom. There were grand flower arrangements, bottles of champagne, a huge cake with sparklers, and gifts piled everywhere. Mom was radiant in her new floor length evening gown. She wore a stunning pendant of a dolphin around her neck that was eventually covered by layers of flower lei from her many admirers. It was a great party.
As she grew older, mom would wait in her wheelchair outside for me to pick her up from the retirement community. On her birthdays, the whole family would head to Sea Life Park to see the dolphins. As I carefully drove the curving roads along the ocean, mom would get more and more excited. "Just look how blue the ocean is today!" she would shout, as if the ocean was that special, deep blue only on her birthday. "Hurry, honey. I don't want to be late for the show."
My mother loved the ocean and dolphins fascinated her. She had a huge collection of ceramic dolphins, dolphin figurines, and dolphin jewelry. There were dolphin pictures and dolphin blankets. Every gift she received was a dolphin of some kind. Some were beautiful and some were just plain tacky, but she loved each one the same. I delicately wrapped each one of her dolphins in bubble wrap and packed them away in boxes when she died, everything except her favorite pendant. I kept that for myself.
As the years went by without Mom, our family continued to celebrate the major milestones in our lives, although they were much less extravagant. As my own sixtieth birthday approached, friends and family were reminiscing about the spectacle that was my mother's sixtieth birthday party so many years ago. My children have all moved to the mainland for work, but I knew they would come home for this birthday, especially when I told them I had decided to combine my sixtieth birthday with my retirement from my job of thirty years. It was a milestone birthday for sure, and I couldn't be more excited.
Two days before my birthday, nobody had said a word and I needed to find out what was going on. I plopped down on the couch next to my half-asleep husband. "Do you know where the party is going to be?" I asked. "I want to make sure I wear something appropriate."
"Party? Wherever you want it to be, my honey." He yawned. "We can go wherever you want."
"I mean, is it far away? Nobody will come to a party if it's too far with traffic these days. Do you know how many people are coming?"
He sat up and stared down at the floor. "Nobody said anything about a party to me."
"Really? Well, maybe it's a surprise for both of us," I replied with a giggle. He grabbed my hand and said, "Let's go do something. Just you and me."
Wow, he's good, I thought. They are really trying to surprise me. How fun! I guess I have to wait and see what they do. It will be a party to remember. I couldn't sleep for the next two nights. I was fantasizing about seeing all of my children that would be flying in from San Francisco, New York, and Boston. I hoped all of my co-workers were coming, too. I didn't know what to wear. I decided to wait to see what my husband wore and follow his lead.
My birthday finally arrived. It came, and it went. I received the obligatory text messages from friends and family throughout the day. My husband offered to take me to dinner, but I could not move from the couch where I stared at the television for the entire night. I would wipe the tears away quickly so my husband wouldn't notice. How could I have been so wrong? Why did I even expect a party? I was thoroughly hurt and confused. Did my family not love me? Here I am, a sixty-year-old woman, behaving like a spoiled child. I am embarrassing myself.
Despite my sulking, my husband could not have been more kind. He could see that I was not myself. I was present physically, but my mind was a scrambled mess. I just couldn't shake the feelings that I could not even explain.
"Let's get out of here. You wanna?" He said one day.
"Like where?" I replied.
"Try go look the last minute cruises. The cheap kine close to home," he said with a grin.
"You just want to eat like a pig," I said, and we both laughed. "But you know what? I am sixty and retired. That is something to celebrate. Can we afford it?"
He winked at me and said, "I think we tell the kids we are spending their inheritance and do whatever we like."
I opened my laptop, and it didn't take long to find a cheap cruise along the California Coast. We were booked, packed, and heading to the airport in less than twenty-four hours and boarding the ship in San Diego the following day.
There is something about being on a cruise ship that is like no other type of vacation. I don't have to worry about where we are going, what I am going to wear, or what we are going to eat. I am free without a care in the world. If we are in port, we can explore the city, or I can read and nap all day if I prefer. On this trip we had a balcony room, which provided me with endless hours in the sun watching the ocean and thinking. That is all I really wanted to do. My husband prefers to spend his time researching the different available food stations.
On Day 3, I was sitting on the balcony when he burst into the room holding yet another two plates of food while simultaneously licking a waffle ice cream cone covered in pink and green sprinkles.
"They just started up the grill. Let's go get some hamburgers and fries!" he shouted.
I smiled, and then giggled, and then all at once, I began to laugh and cry at the same time. He stopped and stared at me. I could see he didn't know what to do. Something in me just burst open and he looked scared. I reassured him. "It's okay. Come sit with me out here for a bit."
He put the food down in the cabin and came out to the balcony with his ice cream. He sat across the small glass table from me. He looked like a little boy trying to eat it quickly as it was melting down his hand. "How are you doing? Are you okay?" he asked with his face full of concern.
I nervously spit the words out, hoping they would make sense. "Sitting here looking at the ocean, I was thinking about my mother. I was trying to remember who planned my mother's sixtieth birthday party. Do you know who planned that crazy party? She did! She planned all of the parties!"
"Yep, she sure was the party planner," he said, but not yet understanding.
I tried to pick the right words again. "That's what I was supposed to do! I was supposed to plan my own birthday party if I wanted one. I didn't understand, but I see it now. You can't expect other people to celebrate you. You must celebrate yourself. That's what Mom taught me."
It all came pouring out. My husband sat with me and listened for hours. We cried and we laughed. Then we ate and decided to go dancing in the ship's nightclub. At the end of the night, we ate again. We celebrated my birthday and we celebrated each other. When we woke up the next morning, my husband headed out for multiple plates of pastries. I threw on a bathrobe and headed out to my chair on the balcony. I felt different. I had a game plan for enjoying the rest of my life. It was a beautiful morning, and I inhaled the salt air as I sipped on my first coffee of the day. The sun was glistening on the deep blue Pacific Ocean as a pod of dolphins emerged, jumping alongside the ship.
My Sweet Remedy
A story by Bernadette Williams

"Could I have you tomorrow? Could I have you today? Could I have you forever? Would you find that okay? Wake me up in the morning, my sweet remedy." As a teen or even young adult, I would've thought this song was nothing more than a simple love song, but in recent years it has had an entirely different meaning for me. Thinking back, I was really just a naïve and immature young woman trying to find her place in the world, not having a clue what the future looked like. I spent my days rebelling against my parents because I knew everything, and of course, everyone else was the problem. But just like Newton's third law, my actions soon caught up with me and at the age of 20, I was expecting my first child. I can recall the moment I realized I was going to become a mom; my heart was racing with happiness, and I couldn't stop the streams of tears falling down my face. Don't get me wrong, I was terrified, but I'd dreamed of being a mom all my life and now the moment was finally here, and I was ready for it all.
In the days that led up to our son's arrival I did what any expecting mother would and worried about whether we had enough wipes and diapers, shopped for the cutest clothes, and rearranged the house about a million times all while still figuring out what kind of parent I wanted to be. I'd thought about the moment I'd give birth and although it scared me, I was so ready for it. It felt like I was the main character of a 90's romcom who had their life together, and my only worry was whether I should go with the epidural or not. I was literally living out my childhood fantasy of being in love, planning to get married, and building a family, so worst-case scenarios never once crossed my mind. From the instant I held my son in my arms I felt like I could conquer the world and everything in it, just to protect the little life I created. Even with the sleepless nights, never-ending feedings and diaper changes, and the many long hours of rocking him back and forth, I was still on cloud nine and nothing or no one could dampen my spirit.
Months went by, still in nirvana from having my first child, when we found out we were expecting another little boy. The first time around was a piece of cake and I was in complete denial that anything bad could ever happen to me because of the intense happiness that rippled through me. I often pictured my two boys growing up together and daydreamed about them running around the backyard playing with water during the summer months while their dad and I sat on the lanai talking story and watching them play. The illusory sweet, yet bitter smell of grass and their laughter-filled screams as they chased each other around and around in circles soothed my soul. The daydreams always seemed so real, but that is all they were.
I was exactly twenty-nine weeks along when he was born, which made him eleven weeks premature. The room was tinted with a bluish haze from the light hospitals use to help jaundiced babies. I can still smell the antiseptic and hand sanitizer-fragranced hallways and I can still hear the slow "beep… beep… beep…" the heart monitor made. With my oldest, mommy could always fix it whether he was hurt or confused, angry or sad. This time, it was different. All I could do was sit back and watch as nurse after nurse and doctor after doctor would come and try to fix it. The days we spent in the hospital were a blur not just because of the strong medication I was on or the constant pain in my lower abdomen from my recent surgery, but more so from the helplessness I felt. I took comfort in the brief moments of almost normalcy when I'd sit in my rocking chair and my husband (then boyfriend) would sing to our little one, "Could I have you tomorrow? Could I have you today? Could I have you forever? Would you find that okay? Darling' look at the stars tonight. There's your bed of roses. Wake me up in the morning, my sweet remedy," he'd sing. But even in those brief moments, somewhere at the back of my mind, the helplessness still lingered.
At Kapiolani Hospital, they hang a small stuffed butterfly on the doors of children who, as they would say, "fly away." I vividly remember staring at it, wanting to rip it off the door screaming that they had the wrong room. But sure enough, the room was no longer filled with a tint of blue light and the beeping had soon stopped. There were no nurses or doctors running in and out. For a moment, I found myself losing my sense of reality and slowly drifted into the familiar space of a daydream, full of the sweet sound of children's laughter. The dreams no longer brought comfort but instead brought bitterness, chaos, and sorrow. When I came back to my senses I had somehow managed to walk downstairs out onto the street side and for the first time in a long time, allowed myself temporary nicotine-induced emotional relief as I attempted to sort through my countless emotions. The days, weeks, and months to come would soon become the hardest times of my life.
Nothing and no one can prepare you for the loss of a loved one, let alone the loss of a child. I can't even begin to describe the amount of anger, confusion, guilt, and sadness that you feel as a parent… as a mother. It was all just too much. The emotional burden became too much to bear, and I eventually stuffed it all into a little corner in the back of my mind. Instead, I convinced myself that for the sake of my oldest son, it's better to be busy than it is to fall apart. And as long as I didn't fall apart, I was "healed." So, I cooked and cleaned and took up hobby after hobby, running myself to the verge of exhaustion every single day. As the days went by my relationship became distant and full of arguments and resentment. But I cared little about that because I hadn't the time nor the energy to deal with it. I was empty and hurting and needed to keep busy because busy meant I wasn't falling apart and falling apart meant that I was "healed." So, I cooked more and cleaned more, and took on even more extravagant hobbies to fill the void that was left in me.
Days turned into weeks and weeks turned into months and finally it was February 5th, 2019. One whole year after my life had taken a turn for the worse, and there we stood on the beach where we laid our son to rest, broken, and tired with little to no hope of peace again. I watched as the small white flowers floated on the surface of the deep blue water being pulled in and then out softly crashing against the sand. The breeze was yet again nice and cool and the salty mist of the ocean blew onto my face. Our family had since gone home taking our oldest with them leaving just my husband and I to our own thoughts. As I stood there, I could hear his sweet voice sing "Could I have you tomorrow? Could I have you today? Could I have you forever? Would you find that okay? Darling' look at the stars tonight. There's your bed of roses. Wake me up in the morning, my sweet remedy." Like the waves rushing up on the sand, my emotions slammed into me and for the first time in a year I truly allowed myself to feel everything all at once. Not that I had much of a choice in the matter. The uncontrollable tears began staining my shirt and the sand at my feet and I remember thinking of that scene in Alice in Wonderland where she'd quite literally cried herself a river and I wondered if it were at all possible. Unbeknownst to me, my partner had been holding me firmly, caressing my back, and as I looked at him, I'd realized he was crying too. We'd stood there in silence for what seemed like a lifetime lost in our own thoughts attempting to piece ourselves together little by little.
Over the next few years, I slowly learned to face the sadness, anger, and confusion I felt as opposed to pretending like they didn't exist. There were many, many moments of absolute defeat where it felt like the pain was just too unbearable that I couldn't get out of bed. I can recall a time when I sat in the tub, my tears mixing with the now cold water flowing down my face, unable to get up or move. But there were also moments of connection between myself and my partner where we talked for hours, where we cried and laughed and felt the mix of emotions together as a couple and as parents. It wasn't easy and it took time, patience, and constant effort to heal these scars.
The thing about grief is as sorrowful as it may be, there is a certain kind of beauty in it, as stupid as it sounds. To be honest, grief never truly leaves you but over time if you allow yourself, you learn to adapt and, in some ways, heal from the loss. My son was my remedy in one way or another and the lessons that I've been taught over the years have benefited almost every aspect of my life. It wasn't until the moment of understanding I had while sitting on the beach in my husband's arms that I realized that I have to face the pain in order to overcome it and that only I had the power to do so. It's been four long, hard years since that day on the beach and not a day goes by that it doesn't hurt any less. I sometimes still find myself imagining those laughter-filled summer days and the sweet voice of my partner singing, "Could I have you tomorrow? Could I have you today? Could I have you forever? Would you find that okay? Darling' look at the stars tonight. There's your bed of roses. Wake me up in the morning, my sweet remedy," and finally, I've found peace again.
Restless & Reckless
Art by "Dad Cat" Chuberko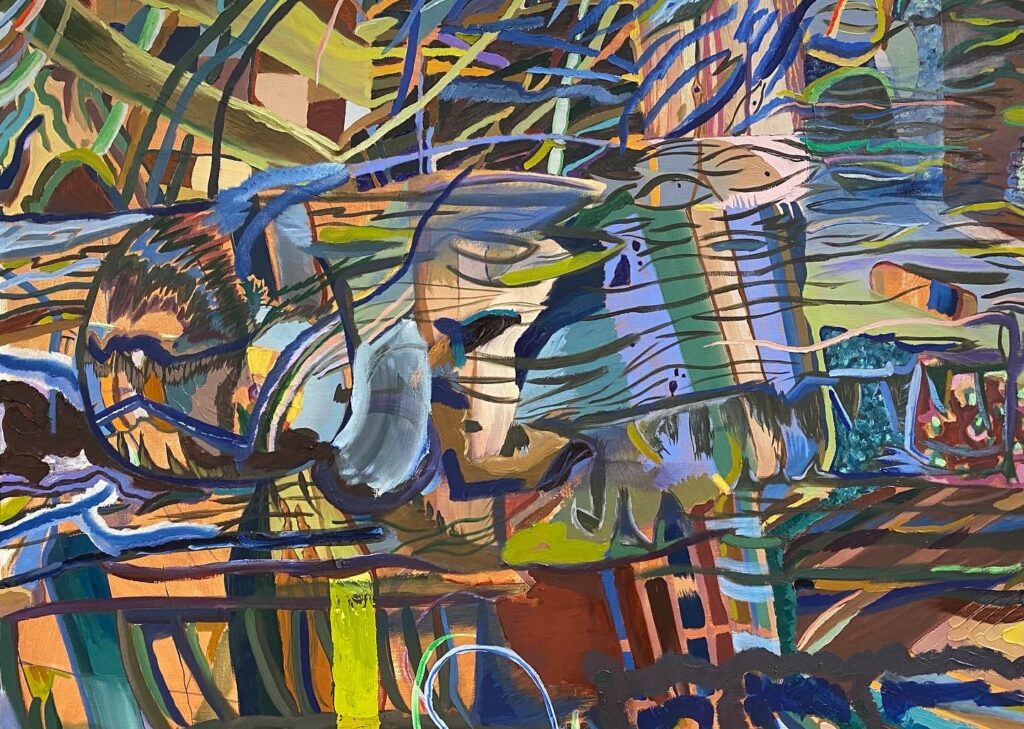 Artist statement: This is an assignment that challenged the class to combine and integrate several differing separate images into a master image, weaving from one to the next.
Hidden Monochrome
Art by Allyson Dunston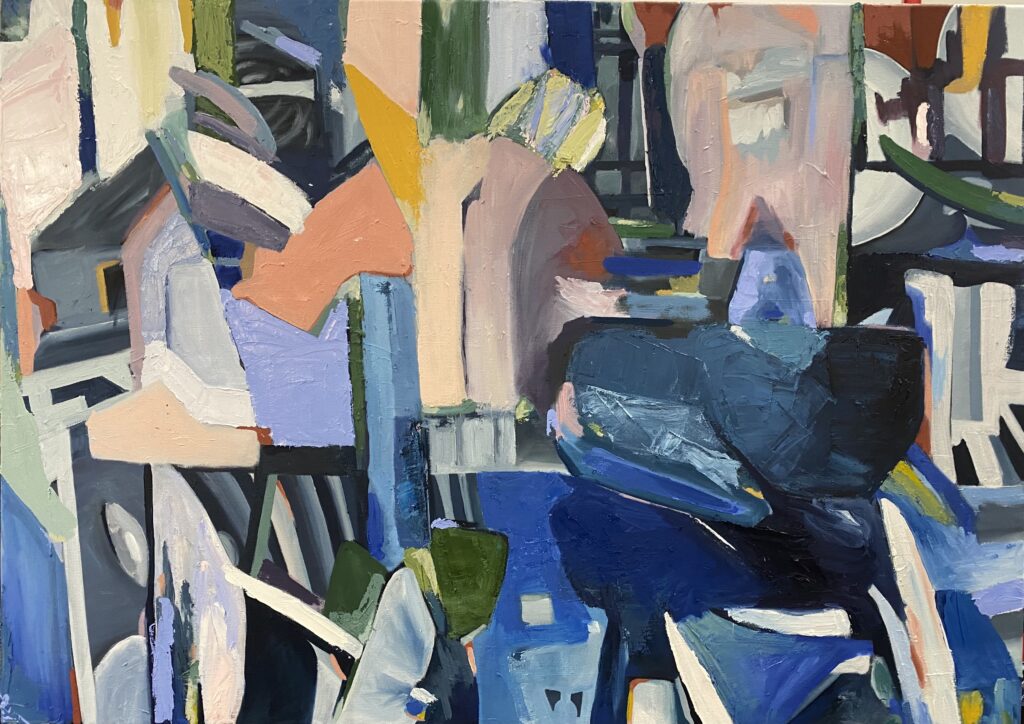 Untitled
Art by Levi Zeblan Aliʻiolenalu Faumuina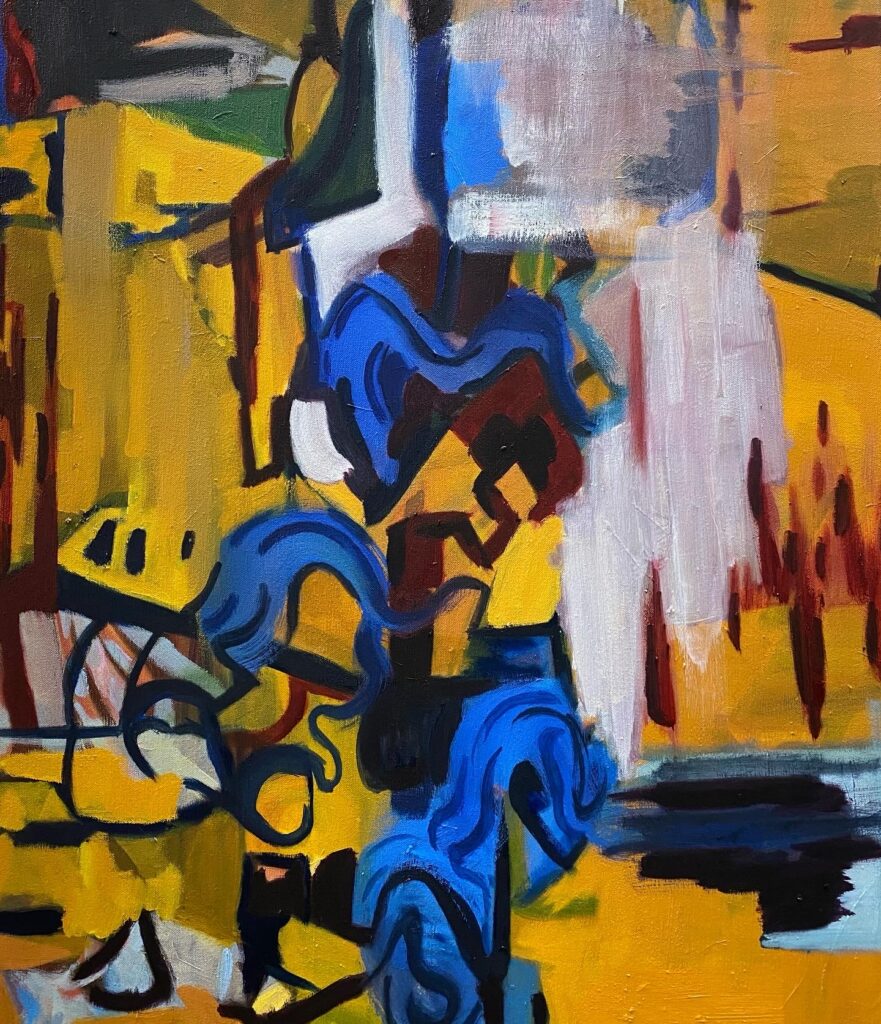 Turmoil
Art by Misuzu Fukeda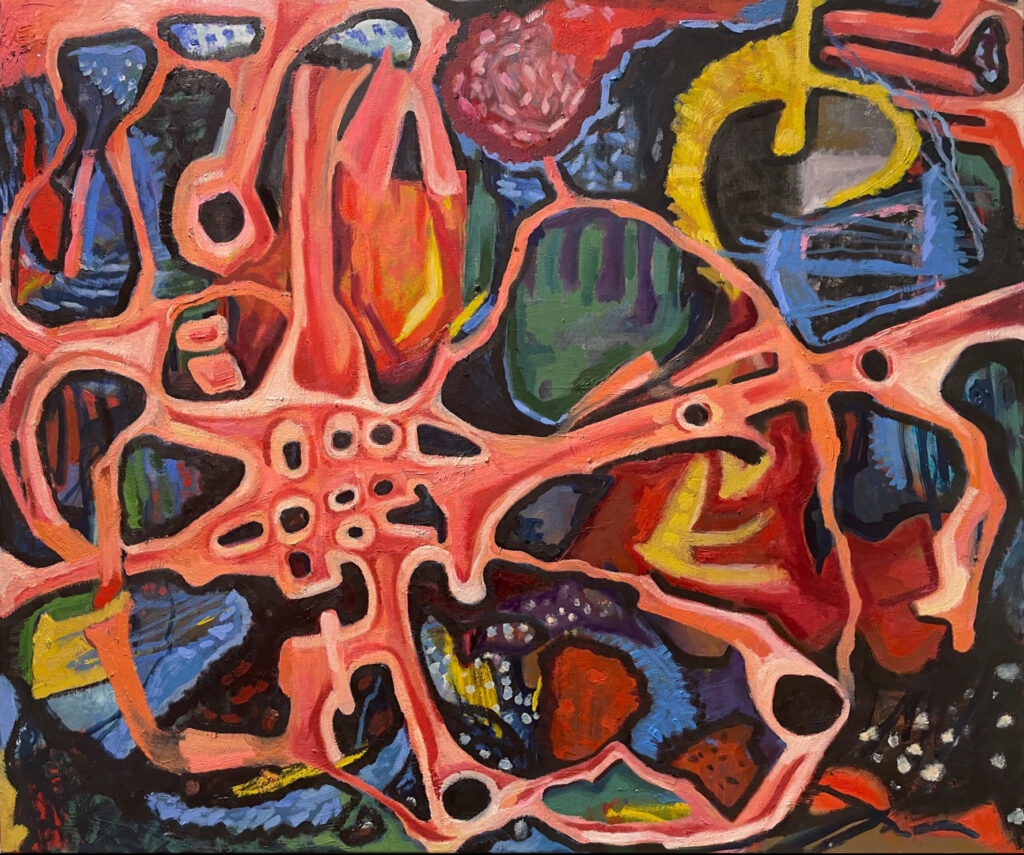 Collections of Me
Art by Levi Gunthrope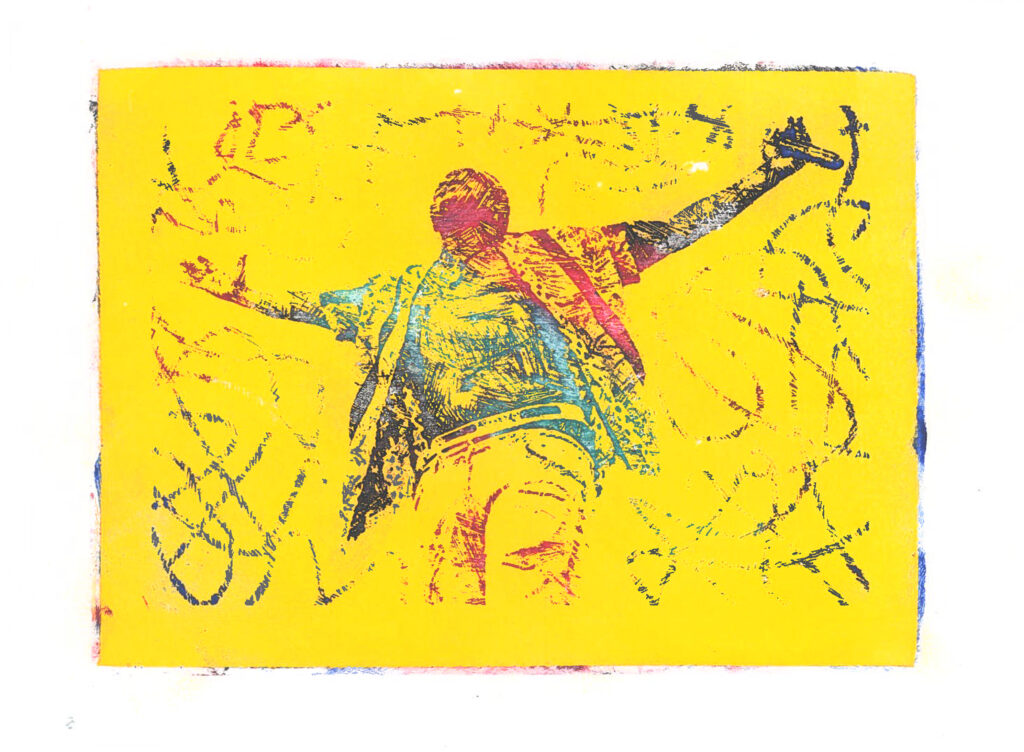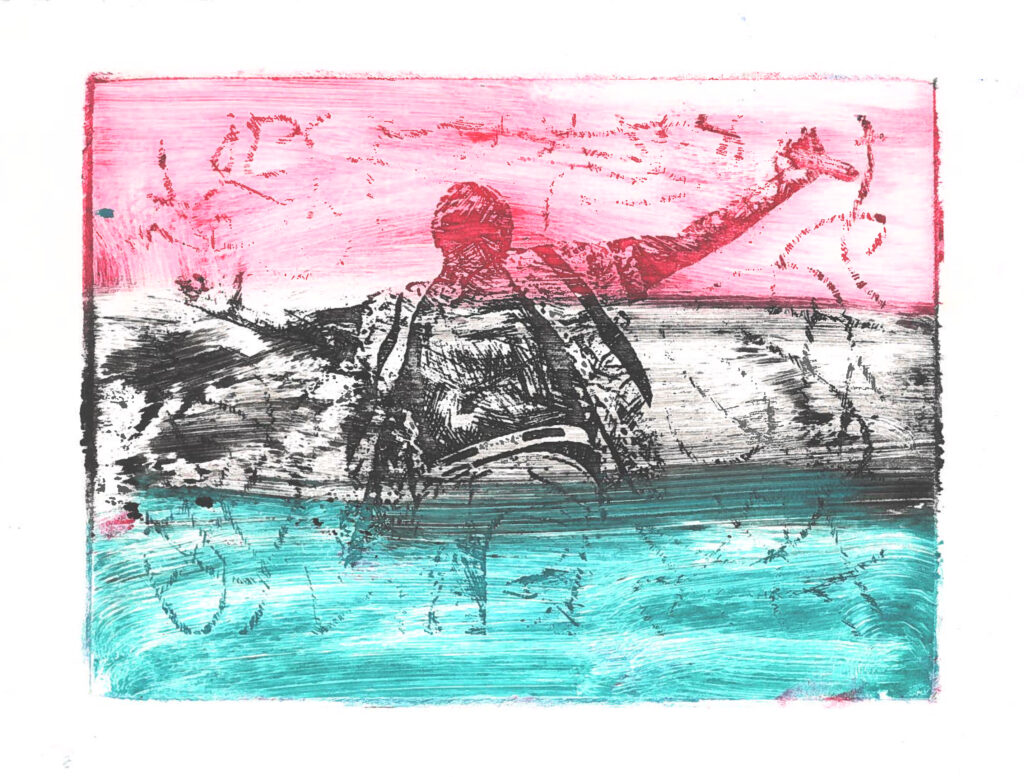 Artist statement: If colors could tell stories each one would tell a different tale in our life's journey.
Inconspicuous Portrait
Art by Kris Iglesias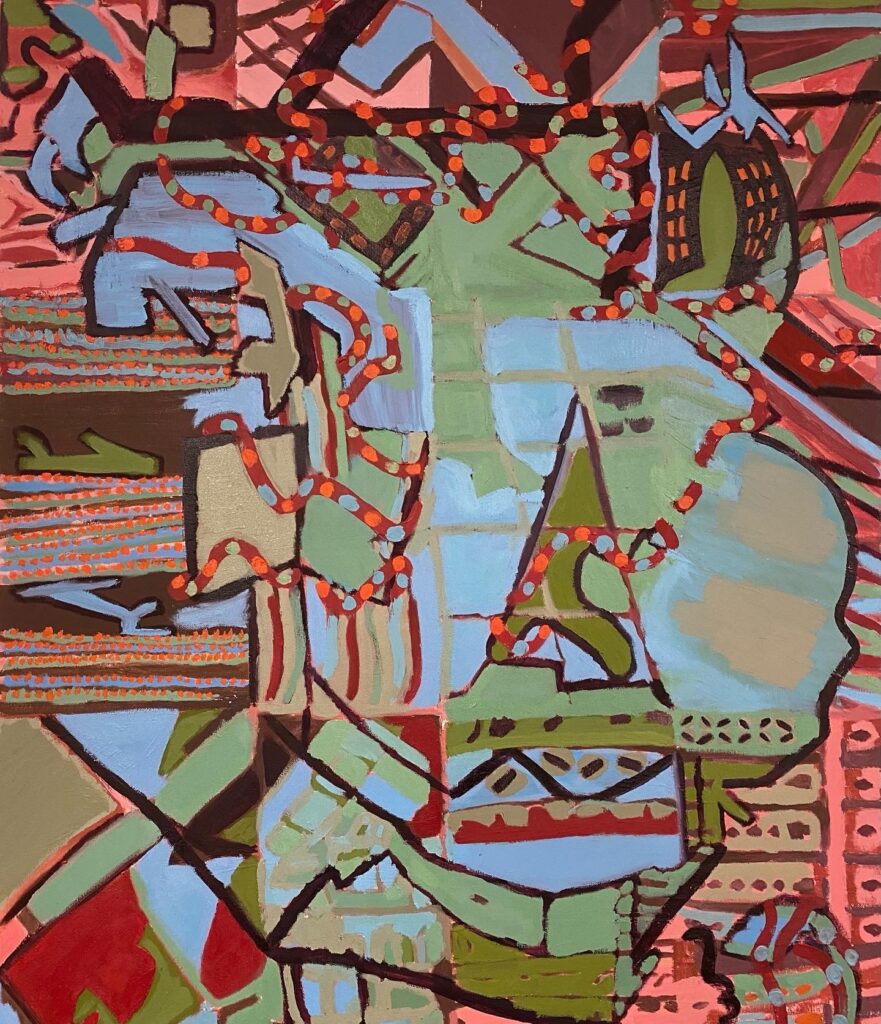 Journey
Art by Karen Irei

Artist statement: This painting was painted for my son who was born with a passion for learning.  He views the world with an inquisitive mind, always observing, listening, questioning, exploring.
Illusions
Art by Hiroko Marcinkowski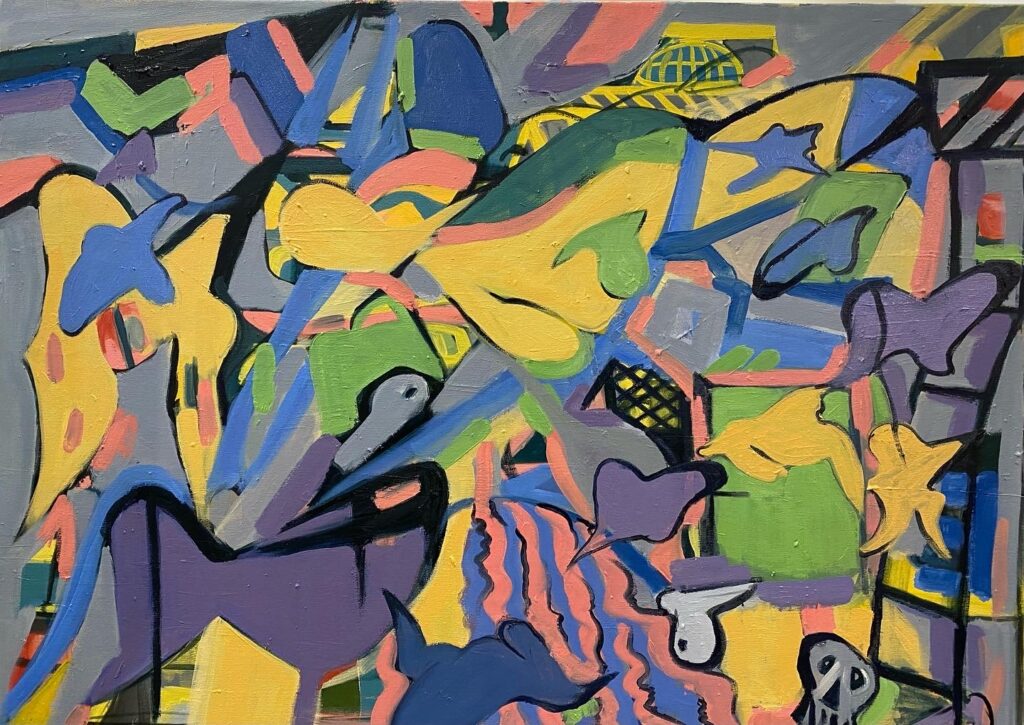 Abstract, Figure Painting
Art by Naomi Santoki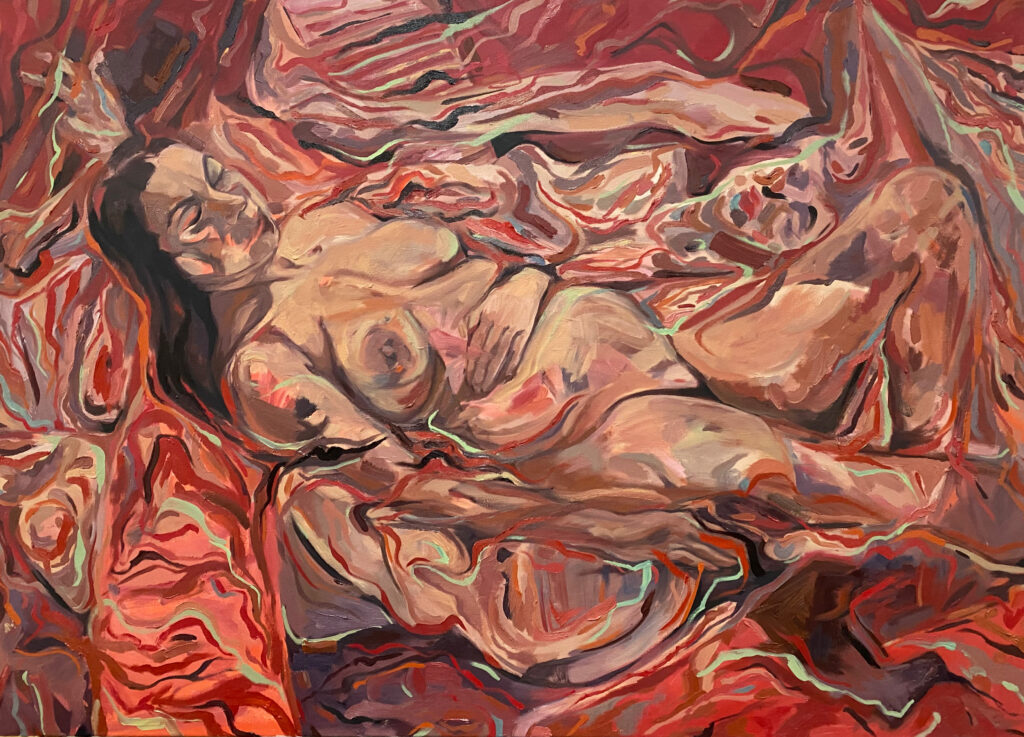 Mortal Sobriety
Art by Samantha Sumstine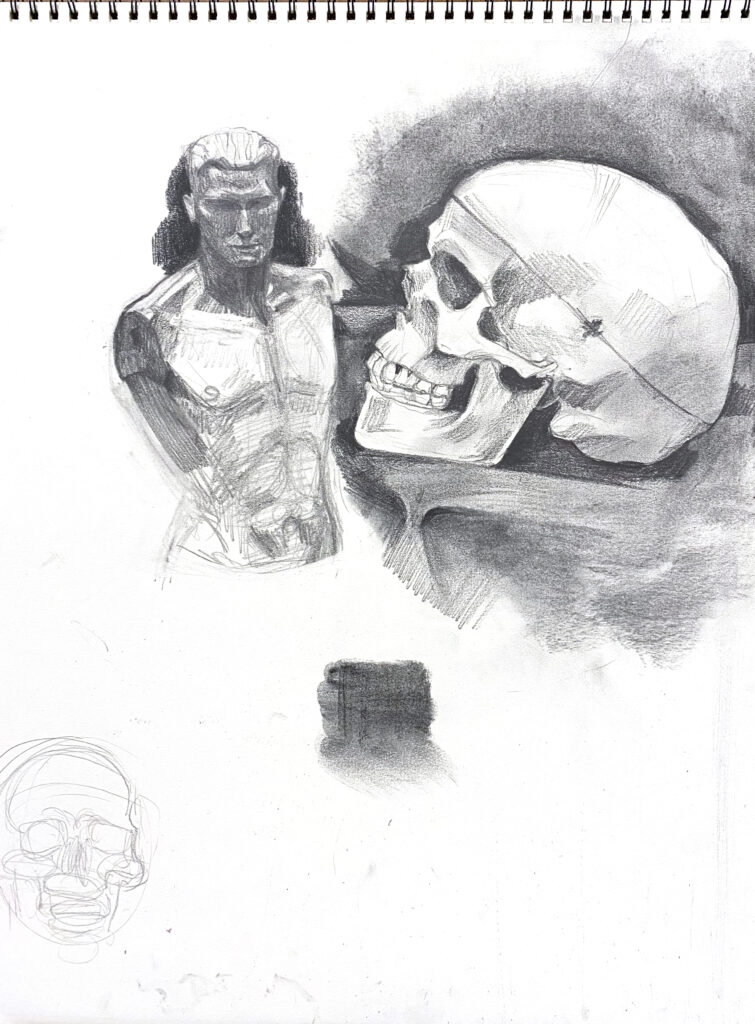 Untitled
Art by Chloe Treme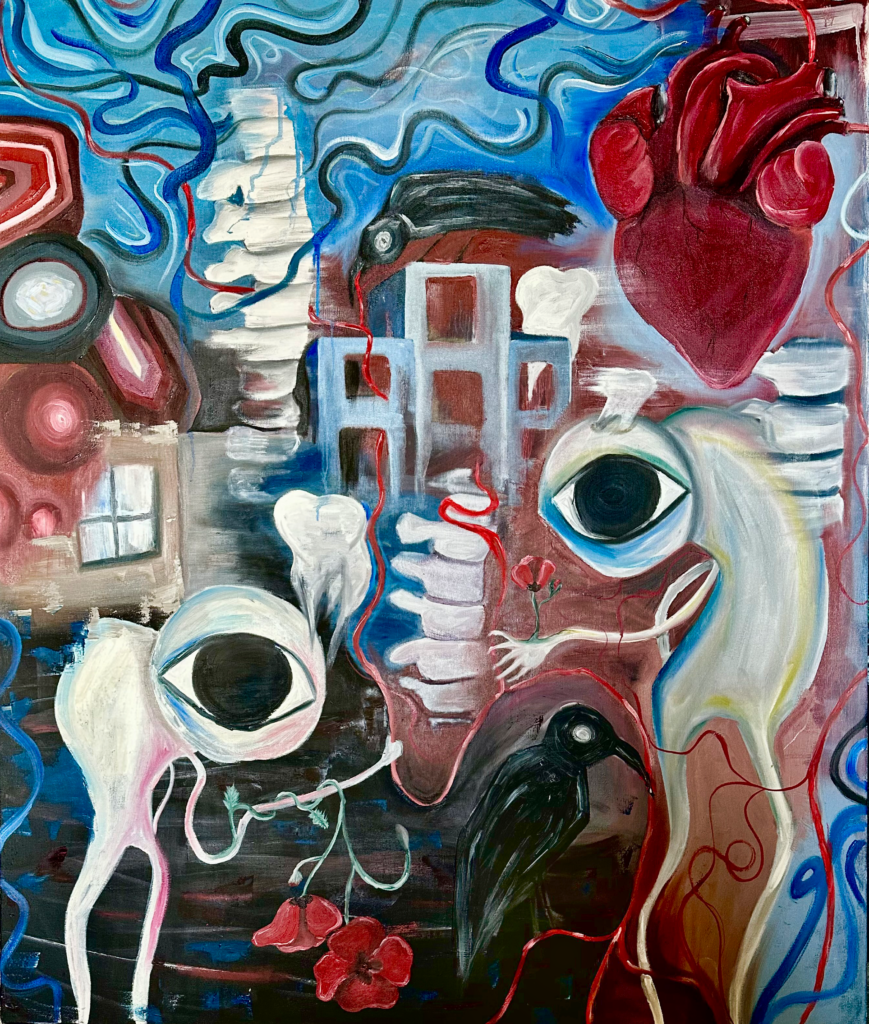 The Merger
Art by Joy Yamashiro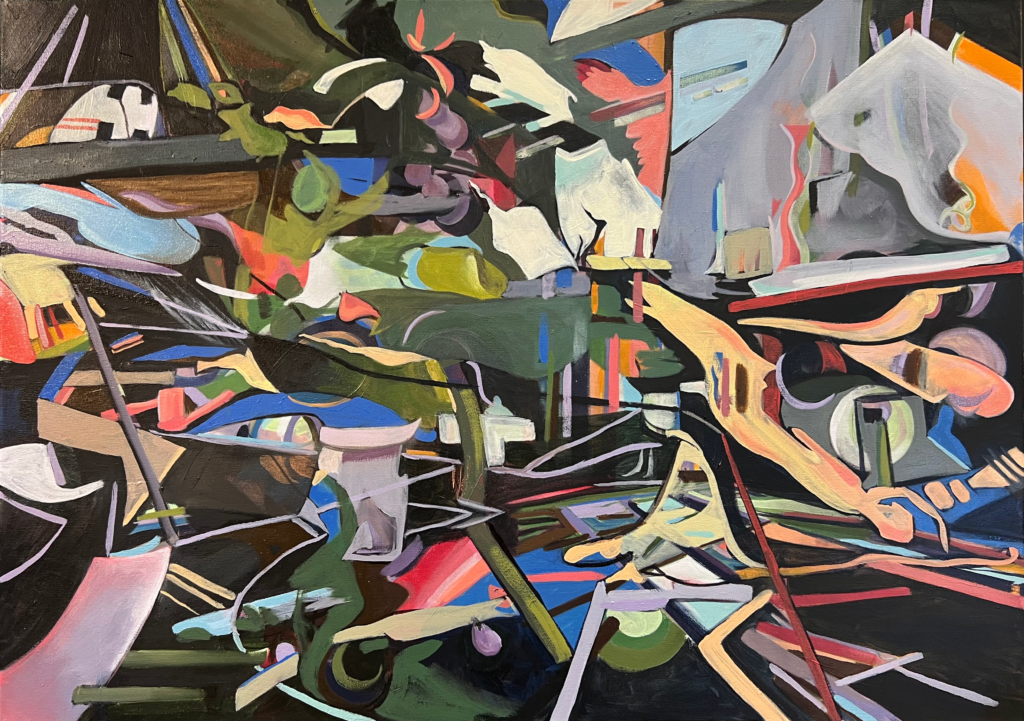 Artist statement: This oil painting was originally a collection of random images that were unified into a cohesive whole. We later further incorporated another artist's piece over/into ours and struck a balance between the two. While the new piece asserted its dominance over the old, there are parts from the original that peek and were pulled thru. The same work to reconcile this has also occurred in my life, where changes came that were broad and sweeping. While this can be uncomfortable at times, holding on to structures and defined moments of my past have helped ground the present.
Personal
Art by Joy Yamashiro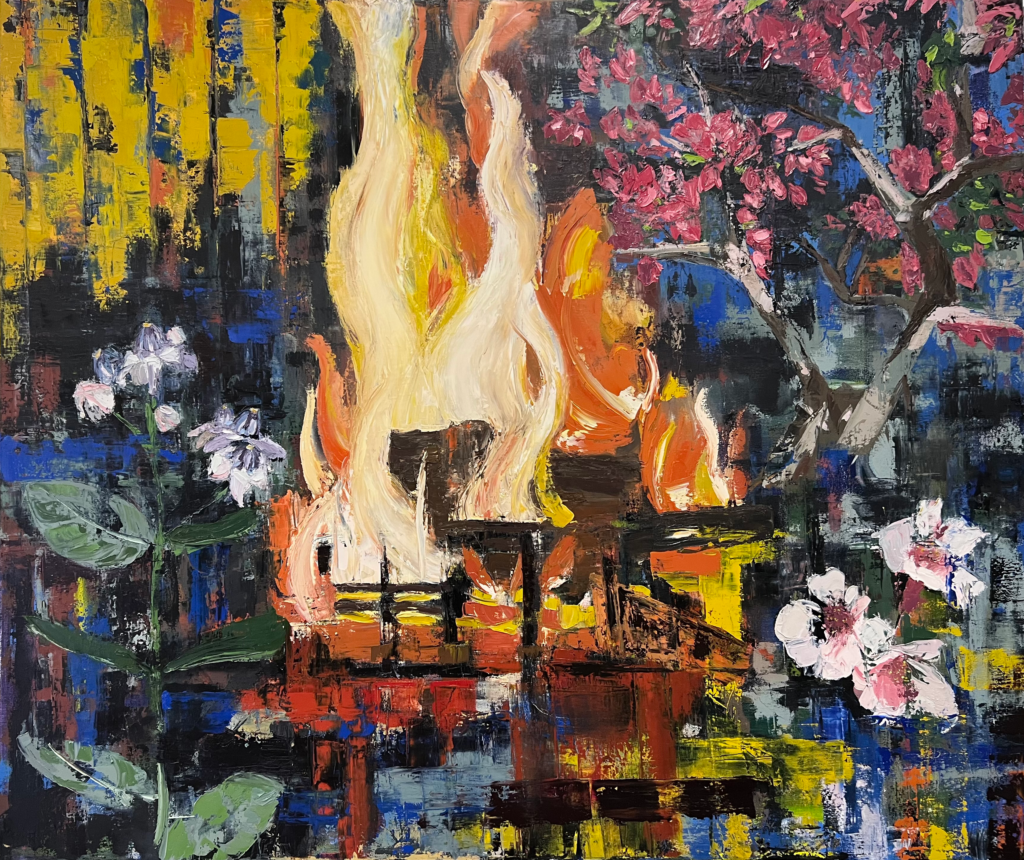 Artist statement: The assignment was to paint something that represented us. It was difficult to know where to start. The recognizable elements can be found in my childhood memories, an easier place to go to as so much of it shaped who I am. They also represent different navigations of life, as they tend to cycle, moments that burned so bright, but were then reduced to ash. Tree trunks that held strong thru crazy storms. Leaves that fell to rest, a cluttered mess. Beautiful visions to hold on to, especially as time goes on, but not perfect by any means.
Relief Letter Print Installation
Art by Erika Molyneux's Fall 2022 ART 166: Digital Printmaking class